Scooter boys or The parkesrs were in some senses a transitional form between the mods and skinheads.
Mod revival of the 1970s, emerged an almost organic cultural collective – Scooter Boys. With an underlying musical focus on Northern Soul and R&B, these scooter boys developed a passion for steamy all-nighters, fueled by a fast, absorbing and intrinsically nomadic lifestyle. They gathered in their thousands at an array of coastal resorts all over the British Isles (and beyond) for all weekend parties, making their own rules and their own enemies. The cultural icon at the epicenter of this phenomenon were the Italian motor-scooters which mobilized this unique way of life.
The high point for scooterboys in Great Britain was from 1984 to 1987. Scooter rallies during this period were attracting numbers in excess of 10,000 or 15,000 people. Scooter rallies usually involved camping, allnighters and alldayers, watching bands, dancing to DJs, drinking and drugs and participating in various scooter-related activities. In the 1980s, scooterboys listened to various styles of music, including ska, 2 Tone, psychobilly, punk rock, Oi!, and northern soul.
The scooterboy subculture has spread around the world, partly due to magazines such as Scootering, which has been published in the UK since 1985, and Scooter Scene, which was published until 1989.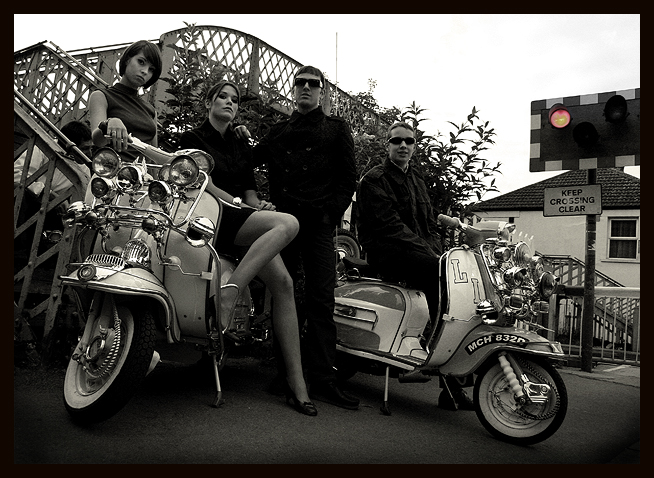 In the 1990s, yet another string was added to the bow of scooter culture, courtesy of artists such as Oasis, Ocean Colour Scene and Cast. These bands, along with the already scooter-credible Paul Weller, helped fuel a new generation of scooter-loving individuals.
Scooter boys style
Unlike the mods, who often customize their scooters with 1960s-style paint jobs and accessories (such as extra mirrors), scooterboys generally use a more modern style of paint work, sometimes adding murals depicting events or music, or in some cases turning them into cutdowns. Performance items were also added to the scooters to improve speed and handling.
There are no rigid fashion rules among scooterboys, although many have resembled punk-influenced skinheads. However, many have had either normal hairstyles, psychobilly-style quiffs or flattops, or dreadlocks. Scooterboys rejected the more formal clothing styles of the mods and traditionalist skinheads (such as suits). Typical scooterboy clothing includes MA-1 bomber jackets, military surplus parkas, and leather or denim jackets (or vests). It is common for scooterboys to sew patches onto their jackets showing the scooter rallies they have attended, the clubs they have belonged to and the brand of scooter they prefer.
New school Scooter boys
Not every Scooter boy prefers a vintage machine. In fact, the number of new school scooter boys in North American scene will someday eclipse that of vintage riders. Modern Scooter boys already out-number old ones and many owners of these twist-and-go modes becoming active in the rallies.