The old Bohemian definition was "a vagabond, a wayfarer". Possibly that definition may, to a certain extent, be true of the present-day Bohemian, for he is a mental vagabond and mental wayfarer. The word comes from the French "Bon Homme" for surely the Bohemian is a good man.
In first place, the Bohemian is always a man with hobby. He may have more than one, but one must have, and that not a mare theoretic and speculative, but substantial, material, money-costing hobby.
Secondly, Bohemian is generous; free of his money when he has any, and sometimes when he has not.
Thirdly, the Bohemian has general inaptitude for business.
Various Bohemian definitions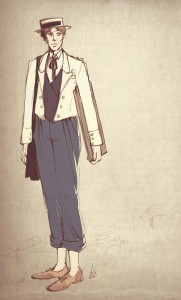 A bohemian is a man with literary or artistic tastes, and an incurable proclivity to debt.
Bohemian definition by: On Bohemia: the code of the self-exiled By César Graña, Marigay Graña
Bohemianism is the protest of naturalism against the too rigid, and, of-times, absurd restrictions established by Society.
Bohemina definition by: Bohemian San Francisco By Clarence E. Edwords
A bohemian is a person, as an artist or writer, who lives and acts free of regard for conventional rules and practices.
Bohemian definition by: World English Dictionary
The term 'Bohemian' has come to be very commonly accepted in our day as the description of a certain kind of literary gipsey, no matter in what language he speaks, or what city he inhabits …. A Bohemian is simply an artist or littérateur who, consciously or unconsciously, secedes from conventionality in life and in art.
Bohemian definition by: "Westminster Review," 1862; Online Etymology Dictionary, © 2010 Douglas Harper
A descriptive term for a stereotypical way of life for artists and intellectuals. According to the stereotype, bohemians live in material poverty because they prefer their art or their learning to lesser goods; they are also unconventional in habits and dress, and sometimes in morals.
Bohemian definition by: The American Heritage® New Dictionary of Cultural Literacy