What is Straight edge? One way to answer this question is to list the core values of straight edge movement:
Clean living, Lifetime commitment, Caring relationships, Self actualization, Spreading the message, Involvement in progressive causes.
Straight Edge definitions in books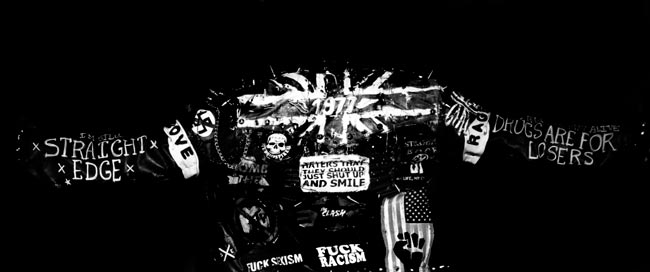 What is Straight edge:
Straight edge movement have been distinguished by their committed and sometimes militant opposition to illicit drugs, alcohol and perceived promiscuous sexual
activity.
– Straight edge definition by: Straightedge youth: complexity and contradictions of a subculture By Robert T. Wood
Core of Straight Edge identity has always been the abstinence from alcohol, nicotine, and common illegal drugs such as cannabis, amphetamines, LSD etc.
– Straight Edge definition by Sober Living for the Revolution: Hardcore Punk, Straight Edge, and Radical Politics By Gabriel Kuhn
What is Straight Edge? Strait Edgers quotes
Ian Mackaye:
Somewhere along the way, Straight Edge evolved from HC's temple of doom into mean-spirited from morality.
Mike Gitter:
Straight Edge was declaration of anti-stupidity. It was being an intelligent misfit; it was positive form of rebellion – it had nothing to do with nihilism.
Jack Grisham:
With the Straight Edge, it was "Let's keep our heads straight, let's keep our thoughts straight."
Web definition of Straight Edge
Straight Edge refers to an existentialist subculture of hardcore punk, which was a direct reaction to the sexual revolution, hedonism, and excess associated with punk rock.
Straight Edge is a philosophy of staying clean and sober: meaning refraining from using alcohol, tobacco, and recreational drugs.
A lifestyle and subculture that advocates abstinence from alcohol, tobacco and the usage of recreational drugs.
– Wikipedia definition of straight edge.
Straight Edge is a movement spawned within the hardcore scene in the '80s.
– about.com definition of straight edge
A philosophy to live a clean, responsible and sober lifestyle.
– Urban Dictionary definition of straight edge