Skinhead movement in Poland date back to the early 1980s, at first it was popular only in big cities such as Warsaw, Torun or the Tricity (Gdansk, Sopot and Gdynia). The first bands which had something in common with Oi! Were DDT from Gdansk and Skrajna Reakcja (Extreme Reaction) from Toru. DDT was the first band whose lyrics were tainted with racism and whose fans were well aware of the fact that Oi! in Britain was already a strong movement, while Skrajna Reakcja (Extreme Reaction) was characterized by totally anti Communist message and Oi! Image, as the members of the group used to claim themselves. DDT's music can be described as fast oi!-punk, while Skrajna Reakcja (Extreme Reaction) played hardcore punk in the Discharge style.
Southern Poland was also quite active and this is the region where crews from Krakow, Wisla, Opole, Raciborz or Rydultowy organised their meetings. A number of bands were set up, such as Ramzes & The Hooligans, BTM, or Szczerbiec. The first group, created by Ramzes who as early as in 1980 played in a punk band called HAOS, played hooligan Oi! with blasphemous lyrics.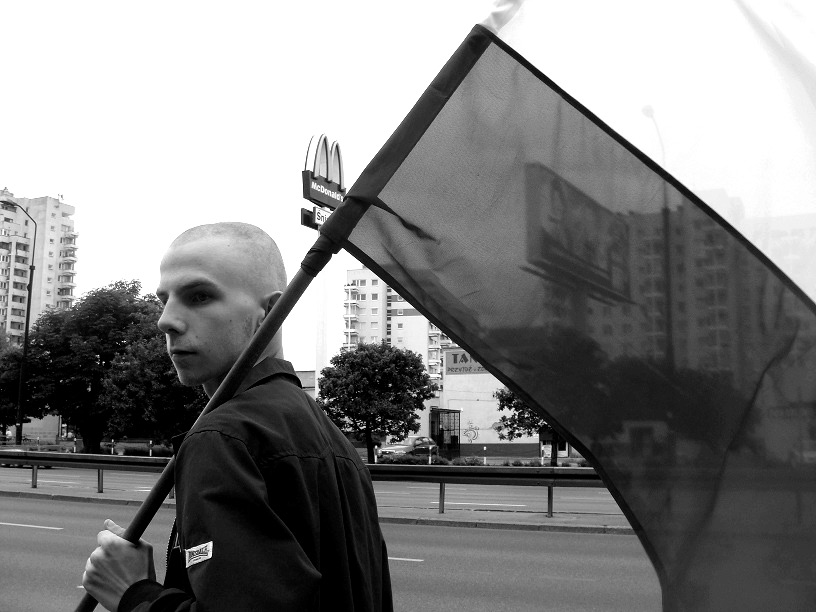 The late 1980s saw skinheads to greatly grow in number, they became a significant part of audiences at various concerts and they often provoked trouble. At the turn of decades new bands were formed – Honor in Gliwice, Konkwista 88 in Wroclaw.
Violence as trademark of Polish Skinheads
Violent behavior is a hallmark of the Polish Skinheads. They seek out victims at mass gatherings, such as soccer matches and rock concerts. Smaller groups also single out individuals for assault. The Skinheads tend to avoid provoking the police, but have fought them on occasion when the police have tried to quell their disturbances. Hard-core racist Skinheads in Poland total approximately 2,000, along with twice that number of supporters and hangers-on. Skinhead activity has been observed in Warsaw, Krakow (especially the steel-producing suburb of Nowa Huta), Lodz, Katowice, Wroclaw (Breslau), Gdansk, Gdynia, Poznan, Sopot, Szczecin, Pulawy, Czestochowa and Legnica.
At the beginning of the 1990s skinhead movement became more radical and continued to grow. Wroclaw became an exceptionally strong centre for skinheads. Under the influence of the band Konkwista '88 nazi skins mushroomed in the city and at one moment this group became so strong that the Mayor of the city asked foreign students on the local TV news to avoid the city centre at night. It was also in Wroclaw where a spectacular action was organized – skinheads attacked a manifestation of solidarity with Nelson Mandela.
In 1993, National Radical Offensive (Ofensywa Narodowo Radykalna) was formed in Krakow by approximately 50 Skinheads, intending to harass leftists and to coordinate Skinhead groups. It has participated in a number of right-wing demonstrations.
Anti-Semitic and xenophobic rhetoric in the bitter and divisive presidential election of 1990 and the subsequent parliamentary elections further fueled the politicization of Polish Skinheads. Far-right political groups (most of them marginal) that have influenced them include the National Front of Poland (Narodowy Front Polski), the recently formed and similarly named Polish National Front (Polski Front Narodowy), several separate outfits that use the name National Party (Stronnictwo Narodowe), and, most natably, the Polish National Community/Polish National Party (Polska Wspolnota Narodowa/Polskie Stronnictwo Narodowe), led by Boleslaw Tejkowski. The PWN/PSN, which has enrolled Skinheads as party members, preaches that the Poles "are being ruled by Jewish nationalists" who it maligns as former "Communist torturers" turned "capitalist exploiters. Nearly whole skinhead movement in Poland was openly racist and totally anti-Communist, the NS skinhead faction visibly dominated.
Polish skinhead style
The Skinheads in Poland have adopted the accoutrements of their counterparts in the West: Doc Martens boots, narrow heans and thin suspenders. They frequently wear T-shirts inscribed "Skinhead Oi." Sometime around 1984 lads with short cropped hair in jeans jackets and Romanian boots begin to come to most of gigs.
Polish skinhead bands: BTH, Grunwald, Ramses, The Hooligans, Szczerbiec (Sword), White Power, Slav Power, Zyklon B, Fatherland, Poland, Sex Bomba, Zadruga, Honor, Sztorm 68, Legion, Konkwista 88, Falanga 88…
Polish skinhead zines: Szxzerbiec, Kolomir, Skinhead Polski, Czas Mlodych and Krzyzowiec.