The skinhead clothing is smart, clean and though. Skinhead clothing has working class origins. Skinheads wear clothes that would not get torn in the fight, which would stay pressed and neat and which would identify them in crowed.
Skinhead clothing: Skinhead boots
Skinhead boots originally studded army boots with steel toe caps, NBC boots, monkey boots or anything else that skinheads could get their hands on, but eventually Dr. Martens became most popular among skinheads, not leas because steelies were classed as an offensive weapon. Cherry red and black were most popular although black boots lost their appeal for some when black Dr. Martens became standard issue for plods.
Astronauts once popular make of eleven hole boot, so called because the air wair sole like walking on the moon.
DMs or Doctor Martens, the most famous make of shoe and boot thanks to its "air wair" soles invented by good Austrian doctor.
Monkey boots, ankle boots with the word monkey written in the sole's tred.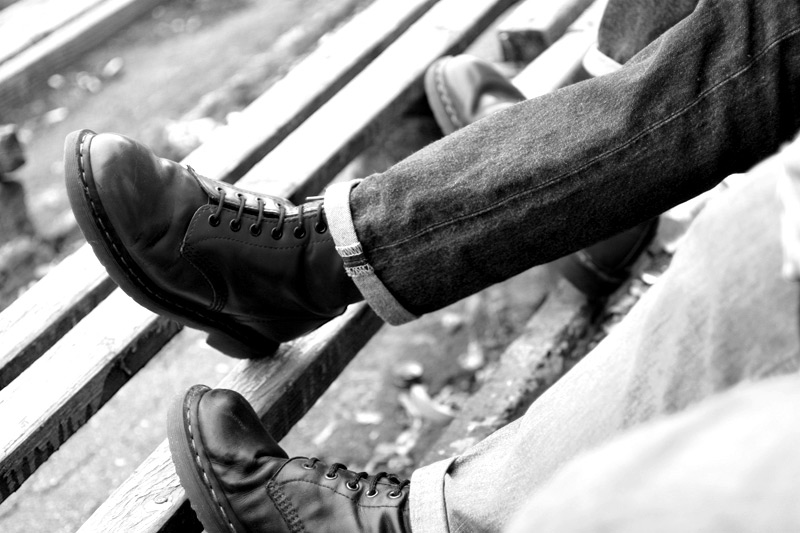 Skinhead clothing: Skinhead jeans
Levi's red tag 501 jeans and jacket are must for a skinhead. Button flies are in vogue at the moment, but some still prefer zips. Red tag 505s have zips as standard. Orange tab jeans are frowned upon in some circles. Jeans were always baggier in the original days, with skin tight ones appearing punk.
Lee, make of jeans, especially popular in north before Levi's became widely available.
Wrangler, another popular make of jeans and jackets.
Skinhead trousers
Greens, army trousers made of green durable material. Cheap and hard waring.
Skinhead clothing: Skinhead shirts and T-shirts
Shirts, American style button down shirts easily the most popular. Always worn with top button undone and long sleeves rolled up once or twice. Freds usualy worn with all buttons down up.
Ben Sherman. most popular make of skinhead shirt available, not least because it's the easiest to get hold of. Ben Sherman was a Canadian who started selling his own brand of American style shirts. Often called Bennies, and available in plain, checked and striped.
Fred Perry, short sleeved were popular with mods in 60s, and are now standard skinhead issue.
Union shirt, Collarless shirt, also called granddad shirt. Usually available in plain or striped, with left breast pocket.
Airtex, make of shirts.
Arnold Palmer, make of shirts. Loud checks in unusual combinations, but not all button downs.
Brutus, make of shirt including best tartan ones available.
Permanent Press, make of shirt. Excellent button downs for girls.
Jaytex a make of shirt, noted for its superb checked downs.
Skinhead T-shirts
T-shirts worn by kids since the 50s and skinheads are no exception. After all, not everyone can afford Bens. Band logos, footie teams, Union Jacks and the like are all popular.
Skinhead clothing: Skinhead Braces
Braces meant to hold your trousers up, but usually worn for style. Certainly not for comfort,. Sometimes worn over a thin pullover or tank top jumper. Wider originally than the quarter inch common today with, half inch, 1″ inch and even 2″ being sported. They were also worn over the shoulder and not around your bum until punk came along.
Skinhead clothing: Skinhead jackets
Harrington jacket, lightweight jacket, named after Rodney Harrington, a character on TV's Peyton Place, who was always wearing them. Zio up front, button up collar. It has always been available in various colours (black, red and fawn are most popular), with a tartan lining as standard, but as with most things the quality of them today isn't a patch on the ones being sold in '69.
Flight or flying Jacket aslo called a flighty, it must be the most popular jacket on sale today. Olive green tops the colour charts, although black ones are most popular with white power skins. Other colours include air force blue. Although supposedly original USAF MA1 issue flying jackets.
Donkey jacket good enough for dockers, miners and labourers, and certainly good enough for their sons and daughters too. Best ones have waterproof orange or black plastic top of the back, and a nice touch would be to have NCB or the like stamped across it. Names were often written on the plain ones. Cheap, deep pockets and warm.
Skinhead clothing: Skinhead suits
Suits, three and four buttons, narrow lapel, and either a middle or back went or two side vents are standard features of skinhead suits. Ticker pockets are another nice touch. Buttons on the sleeve were another measure of style with three being minimum.