List of skinhead movies. List contain best films relating to the skinhead subculture.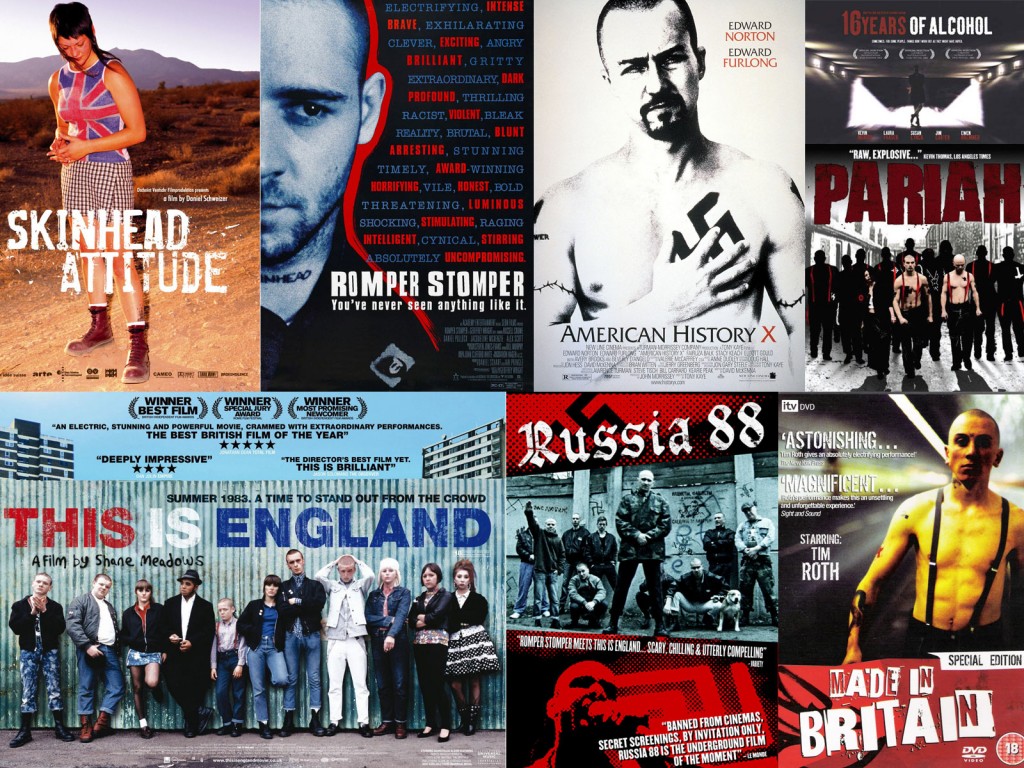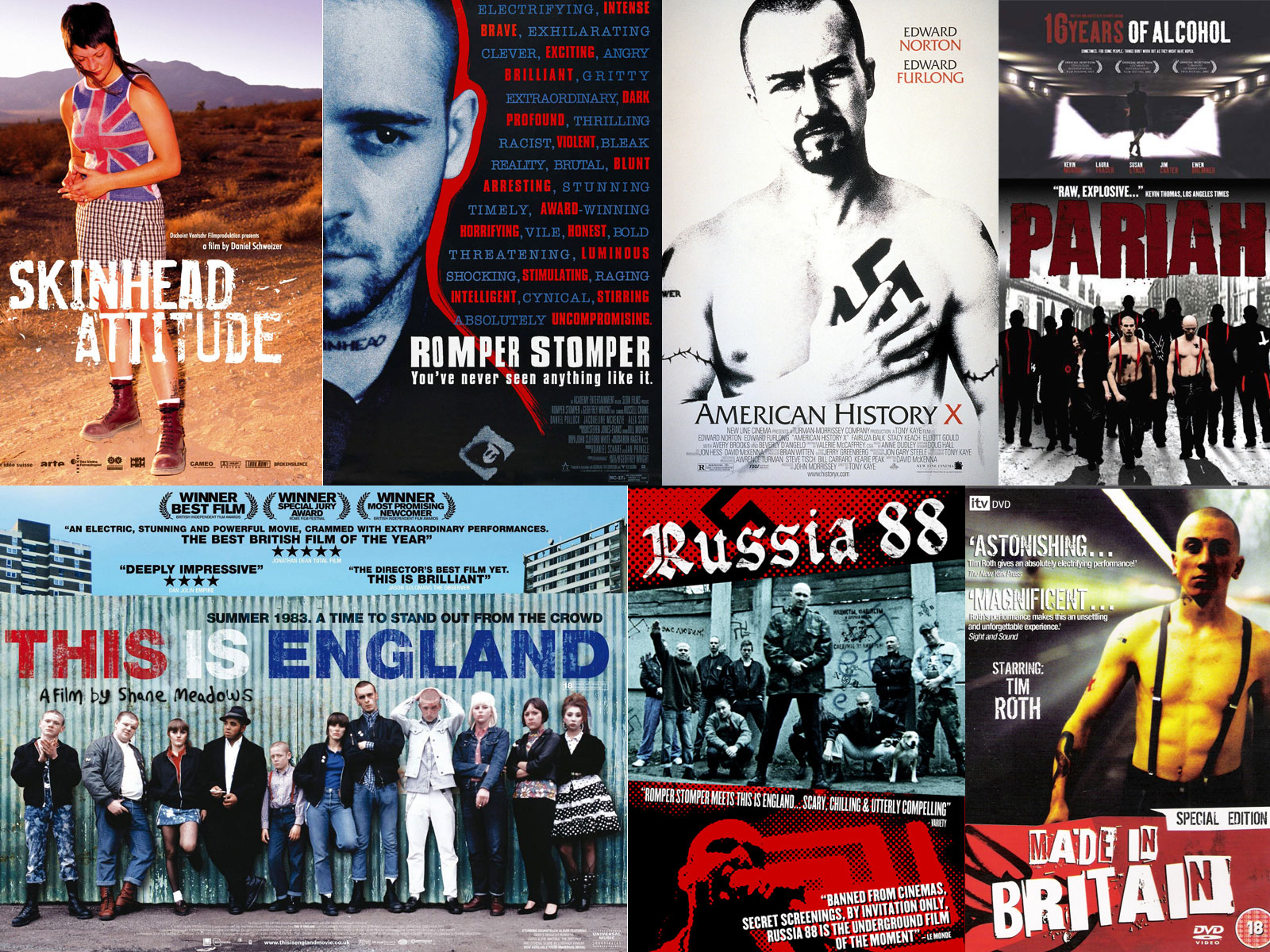 Skinhead movies by alphabetical order:
16 Years of Alcohol (2004); by Richard Jobson
16 Years of Alcohol is a 2003 drama film written and directed by Richard Jobson, based on his 1987 novel. The film is Jobson's first directorial effort, following a career as a television presenter on BSkyB and VH-1, and as the vocalist for the 1970s punk rock band The Skids. The movie was set and filmed in Edinburgh and Aberdour.
Adam's Apples (2005); by Anders Thomas Jensen
Adam's Apples (Danish: Adams Æbler) is a 2005 Danish movie, directed by Anders Thomas Jensen. After being released from prison, Adam, the former leader of a neo-Nazi gang, is required to spend several months living in a small religious community, headed by a priest named Ivan.
American History X (1998); by Tony Kaye
American History X is a 1998 American drama film directed by Tony Kaye and starring Edward Norton, Edward Furlong, Beverly D'Angelo and Avery Brooks. The film tells the story of two brothers, Derek Vinyard (Edward Norton) and Daniel "Danny" Vinyard (Edward Furlong) of Venice Beach in Los Angeles, California. Both are intelligent and charismatic students. Derek brutally kills two black gang members whom he catches in the act of breaking into the truck left to him by his father, and is sentenced to three years in prison for voluntary manslaughter. The story shows how Danny is influenced by his older brother's actions and ideology and how Derek, now radically changed by his experience in incarceration, tries to prevent his brother from going down the same path as he did.
Arena: Tell Us the Truth, Sham 69 (1979); by Jeff Perks and BBC TV
BBC's "Arena" programme devoting an entire documentary to both the LP and Sham 69 and lead singer Jimmy Pursey who was hailed as a "spokesman for the angry generation". "Jimmy Is Our Leader" was a common sight on most inner city school walls at the tim ! Continued outbreaks of violence at the band's gigs, particularly in early '79 (caught here), led to growing speculation that Sham 69 were about to split. This classic documentary chronicles those troubled times.
The Believer (2001); by Henry Bean
The Believer is a 2001 film written by Henry Bean and Mark Jacobson, and directed by Henry Bean. It stars Ryan Gosling as Daniel Balint, an Orthodox Jew who becomes a Neo-Nazi.
Diary of Skin (2005); Jacobo Rispa
Antonio Salas, a journalist under a pseudonym-infiltrating neo-Nazi groups in Madrid to find the murderers of his research partner. He dos it with the support of James, a policeman who had long done the same but without managing to reach the dome.
Dog Years (1997); by Robert Loomis
Dog Years is a 1997 action-comedy film directed by Robert Loomis; It was filmed entirely in Arizona and featured music by Arizona ska band Dave's Big Deluxe. The film revolves around the lonely Wally, a Trojan skinhead whose only friend is his beloved Dalmatian Neechee.
Higher Learning (1995); by John Singleton
Higher Learning is a 1995 American drama film, starring an ensemble cast. It also featured Tyra Banks' first performance in a theatrical film. Laurence Fishburne won an Image Award for "Outstanding Supporting Actor in a Motion Picture" for his performance; Ice Cube was also nominated for the award. Young people from different countries, races and social backgrounds are forced to integrate when they enroll in Columbus University, where West Indian Professor Maurice Phipps (Laurence Fishburne) teaches political science.
The Infiltrator (1995); by John MacKenzie
The Infiltrator is a film about a Jewish freelance journalist who travels to Germany to write an article about Neo-Nazism, which originally aired on CNN. Among its cast include: Oliver Platt, Arliss Howard, and Tony Haygarth. It is based on the book In Hitler's Shadow by Yaron Svoray.
Made In Britain (1983); by Alan Clarke
Made in Britain is a 1982 television play directed by Alan Clarke, and written by David Leland, about a 16-year-old white power skinhead named Trevor (played by Tim Roth, in his television debut), and his constant confrontations with authority figures.
Meantime (1983); by Mike Leigh
Meantime is a 1983 film directed by Mike Leigh, produced by Central Television for Channel 4. The film details the travails of a working-class family in London's East End, struggling to stay afloat during the recession under Prime Minister Margaret Thatcher's premiership. Gary Oldman makes his film debut as the quirky skinhead Coxy.
Oi! Warning (1999); by Ben and Dominik Reding
Oi! Warning is a 2000 German movie about a 17-year-old boy who runs away from home to become an Oi! skinhead. The movie was the directorial debut of twin brothers Benjamin and Dominik Reding.
Pariah (1998); by Randolph Kret
Pariah is a 1998 dramatic film written and directed by Randolph Kret and starring Damon Jones, Dave Oren Ward and Angela Jones. A woman commits suicide after being sexually assaulted by neo-Nazi skinheads. Her boyfriend then joins the skinhead gang in hopes of getting revenge on them.
Romper Stomper (1992); by Geoffrey Wright
Romper Stomper is a 1992 Australian action drama film written and directed by Geoffrey Wright, starring Russell Crowe, Daniel Pollock, Jacqueline McKenzie and Tony Lee. The film follows the exploits and downfall of a neo-Nazi skinhead group in blue-collar suburban Melbourne. The film opens with a gang of violent neo-Nazi skinheads from Footscray, Victoria, Australia attacking some Asian teenagers in a subway tunnel.
Russia 88 (2009); by Pavel Bardin
Russia 88 is a 2009 Russian mockumentary directed by Pavel Bardin about white power skinheads. In the film, members of a gang called Russia 88 are filming propaganda videos to post on the Internet. After a while, they become accustomed to the camera and stop paying attention to it. The leader of the gang, Blade, discovers that his sister is dating a southern caucasian guy.
Skin (2008); by Hanro Smitsman
'Skin', set in a grim Dutch working class area in 1979, tells the story of Frankie, who starts out as a normal, somewhat rebellious teenager, and ends up as a neo-Nazi in jail. Even though Frankie does not intend for it to happen, he gradually finds some solace with a group of skinhead neo-Nazis, and escalation ensues.
Skinhead Attitude (2004); by Daniel Schweizer
Skinhead Attitude is a 2003 documentary about the skinhead subculture, made by Daniel Schweizer. (Daniel Schweizer also directed the films "White Terror" and "Skin or Die"). It outlines the history of 40 years of the skinhead subculture, beginning with the most recent versions of the culture. One of the topics it explores is the political component, which ranges from far left to far right. The film describes the transformation and radicalisation of this youth subculture.
Skinheads (1989); by Greydon Clark
A gang of skinheads is wanted by the police after committing a series of brutal crimes in their hometown. While trying to lay low in a more rural area, they get into a fight with the owner of a truck stop. When two witness run off into the woods, the gang follows, intent on silencing them for good. Fortunately for the fleeing pair, they stumbling upon a survivalist (and World War II veteran) with no fondness for Nazis, traditional or Neo.
Skinheads USA: Soldiers of the Race War (1993); by Shari Cookson
Skinheads USA: Soldiers of the Race War is a 1993 HBO documentary movie about a group of white power skinheads involved in the neo-Nazi movement in the United States. It was directed by Shari Cookson and produced by Dave Bell.
Skinning (2010); by Stefan Filipović
Skinning (Serbian: Шишање; Šišanje) is a 2010 Serbian skinhead movie directed by Stefan Filipović.
Speak Up! It's So Dark (1993); by Suzanne Osten
An elderly Jewish man (Etienne Glaser) befriends a young neo-nazi (Simon Norrthon) on a train and invites him to his home. Through a series of discussions the two gradually come to understand each other better.
Steel Toes (2006); by David Gow and Mark Adam
David Dunkleman (Strathairn) is a Jewish humanist and a lawyer who works for the court system in Canada. He is assigned to defend Mike Downey (Andrew Walker), a member of the Aryan Brotherhood who is accused of a brutal, racially motivated murder. Behind prison walls, the two have a clash of ideologies as Dunkleman attempts to put his professional beliefs before his personal beliefs, and his client clings to his hateful beliefs.
This Is England (2006); by Shane Meadows
This Is England is a 2006 British drama film written and directed by Shane Meadows. The story centres on young skinheads in England in 1983. The film illustrates that skinhead subculture, whose 1960s roots include elements of black culture especially ska, soul, and reggae music, became adopted by white nationalists, which led to divisions within the skinhead scene.
World of Skinhead (1996); by Doug Aubrey
An inside look into one of the more rugged Western working class subcultures. Issues of what it means to be a skinhead and what doesn't mean.