Nick Knight OBE (born 1958) is a British fashion photographer, documentary photographer, and web publisher-as director of SHOWstudio.com.
Knight studied at Greenhead College, Huddersfield, before enrolling at Bournemouth and Poole College of Art and Design. His first book of photographs, 'Skinhead', was published in 1982, whilst a student at Bournemouth. "Skinhead" is book of photographic vision of London's East End Skinheads. All the photos in the book were taken between 1980 and 1981 and nearly all were shot in the vicinity of Petticoat Lane. In addition to the photos, however, there are several written sections on skinhead culture. The first several are written by Knight himself, and cover a range of topics, each under a large bold heading: Origins, Dress, Hair, Music, Behaviour, Authority, Decline, and Revival.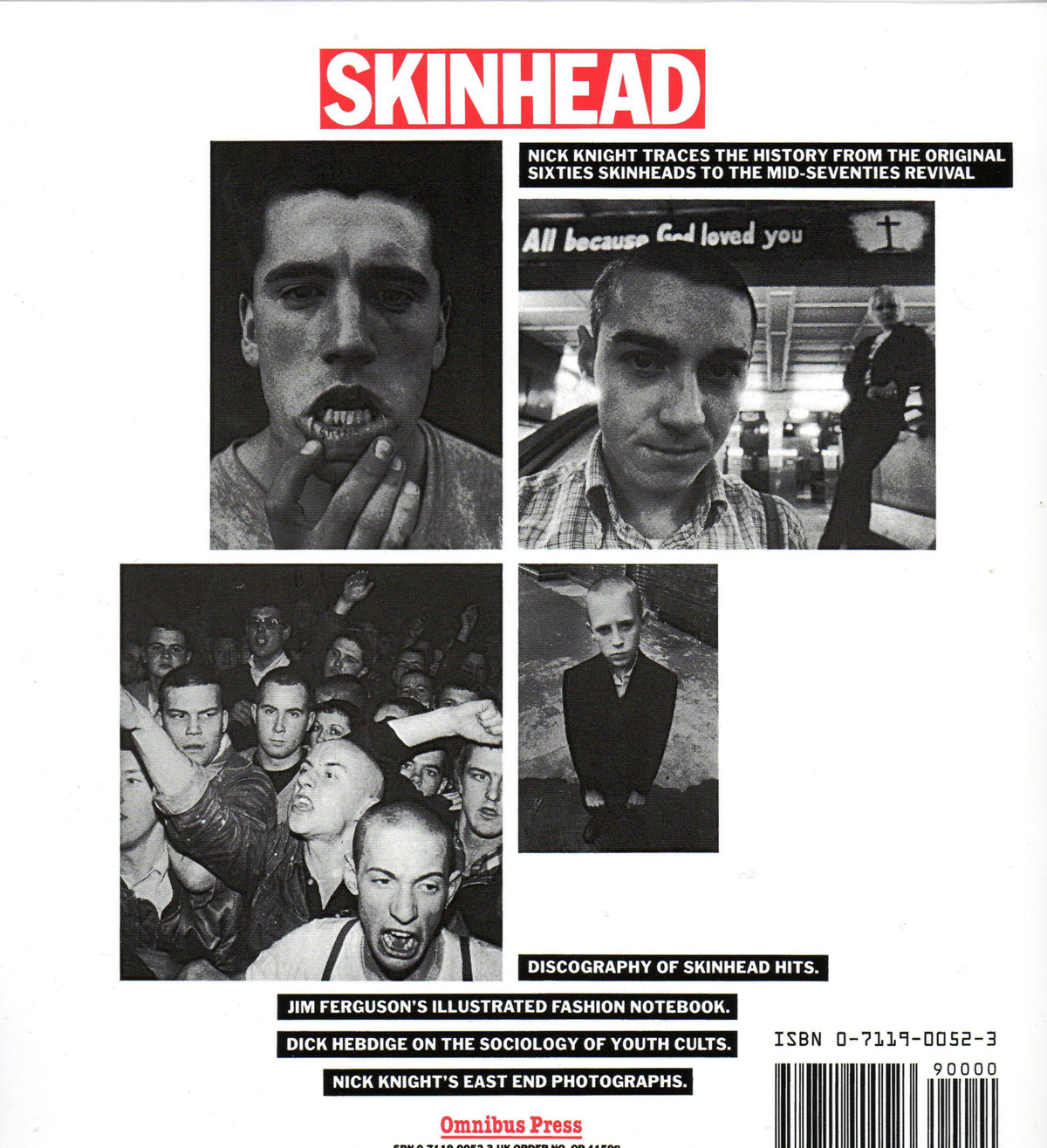 Nick Knight Skinhead review
Skinhead is one of the two best-known and most authoritative texts on the British skinhead subculture (the other of course being George Marshall's Spirit of 69), although it is important to point out that both books were written during and after the late 70's revival, and not during the original 1960's period that they are principally occupied with. In Knight's case that is a bit more of an issue, but more on that later.
The book is primarily described as a photojournal, and indeed about half of its 100 or so pages are stylish black-and-white photos of–what else–skins. The pictures are uniformly excellent. Almost all are posed, but the subjects appear very natural and comfortable, and that is an absolute necessity in any photo book covering a youth culture. These 50 or so photos are probably the best visual history we have of the oi! and punk influenced skinhead revival. Number one crops, flight jackets, braces worn down in many cases. There are quite a few photos of girls, too, and while this may be a bit misrepresentative of the number of girls actually involved, they are definitely cute and you can only look at so many bald dudes showing off their contrast laces anyway. The photos are taken in a variety of settings: oi! gigs, grimy-looking alleys, the subjects' homes. They all have a suitably grainy, gritty quality that works quite well, and many are taken in close-up, with wide angle lenses that give a literally in-your-face and confrontational feel.
Nick Knight's book Skinhead gives the reader a good first introduction to the skinhead culture. In an overview of the origins of skinheads, Knight is able to bring in the style and ideology which embodies a skinhead. He distinguishes between the different types of skinheads – racist and non-racist – and gives history on their mixing.
This book includes a good music guide which describes the Jamaican birth of ska and it's immigration to England in the 1960's. There is also an illistrated fashion section which in itself will justify for some the purchase of this book. In conclusion Knight gives a wonderful photo album of skinheads which shouldn't be missed.