Spirit of 69 – A skinhead bible is dedicated to the Glasgow Spy Kids skinhead crew.
The book was written by George Marshall with help of hundreds of other skinheads around world. George Marshall was editor of skinhead newspaper, Skinhead Times from 1991 to 1995. Spirit of 69 – A skinhead Bible has also publis in German, Portuguese, French and Polish.
A skinhead bible consists of eight chapters:
1. Spirit of 69
2. Sons of Skinhead
3. Angels with dirty faces
4. Street Feeling
5. Welcome to the Real World
6. Neither Washington or Moscow
7. Skinhead Resurrection
8. A-Z of Skinwear
George Marshall also wrote:
The Two Tone Story (1990), Total Madness (1993), Bad Manners(1993), Skinhead Nation (1996).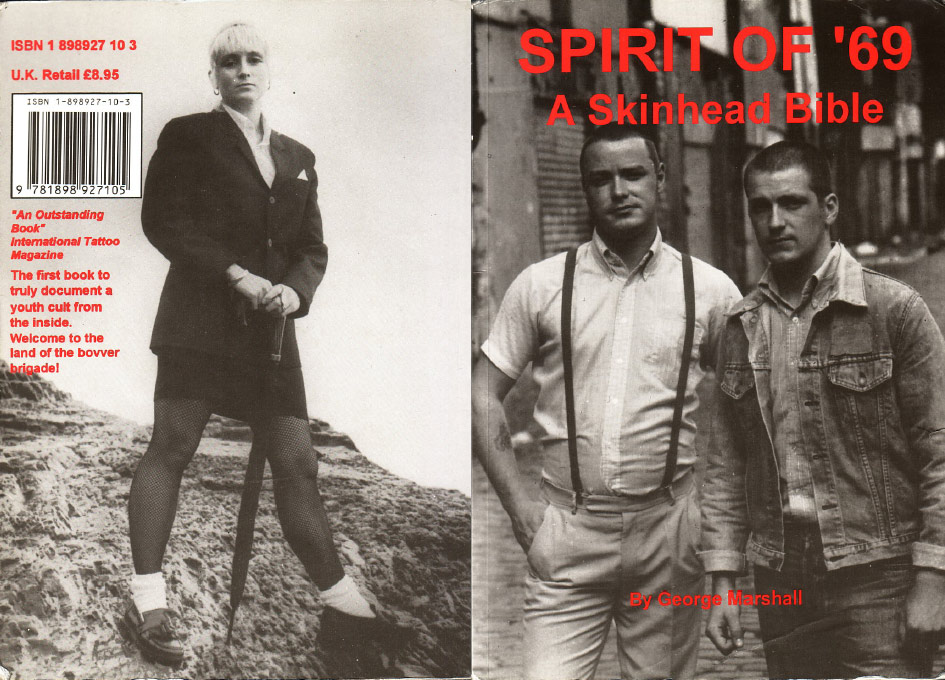 Spirit of 69 A skinhead bible
George Marshall, a Skinhead from Glasgow, Scotland, released his master piece in 1994 titled Spirit of 69: A Skinhead Bible. Explaining the rise of the Skinhead movement in England. Talking about the early days of the skinheads, and the adoptation of Jamaican music, to the glorious days of Oi!. Spirit of 69: A Skinhead bible is based on his personal stories, getting in contact with some of the people that lived the 'Skinhead Days'. A very good book if you want to know about the skinhead culture. The term 'Spirit of 69' was first said by the gang Glasgow Spy Kids from Scotland. A crew that Marshall use to be part of. After the release of the book 'Spirit of 69' became a worldwide term for the Skinheads from the early days that listen and danced to Reggae music. Marshall also released a continuation of this book, best known as 'Skinhead Nation'. Did not make much success as well as Spirt of 69, but it quickly sold out. Some people follow step by step what the book says, and turning into what Skinhead is. Some forget that is just a personal experience, and he calls him self 'NOT a skinhead god'. But apparently a lot of people skipped those pages. The book is fantastic, if you really want to know about the Skinhead cult, make sure have some time to read all 176 pages of this book. Marshall talks about all of the aspects of the culture from politics to music to even fashion in a no nonsense down to earth way where you feel he could be talking to you.
Skinhead bible quotes
" Skinhead, skinhead, over there,
What's it like to have no hair?
Is it hot or is it cold?
What's like to – BE BALD! "
Playground chant from the early Seventies.
Spirit of 69: A skinhead bible, introduction.
" Scooters remained popular with skinheads, just as they had with mods. However, there was little room for Christmas tree lights and fox tails. Skins tended to keep them bog standard or cut them right down to the bare frame, more for go than show. "
Spirit of 69: A skinhead bible, page 11.
" Whether or not the first skinheads came from the East End of London is open to debate, but it's as good a place as any to claim as a birthplace. In 1972, Penguin published a book called The Paithouse which was about skinhead gang from Bethnal Green. Skins were on their way out by then of course, but the book wasn't really aimed at the cult anyway. More your sociology set. Even so, it was one of the few decent records of the original skinheads preserved on paper.. "
Spirit of 69: A skinhead bible, page 16.
"Richard Allen
Probably the most famous skinhead of them all is one Joe Hawkins. Quite a feat for a skinhead who only existed in the pages of the cult paperbacks written by his creator Richard Allen. Joe made his first appearance in the novel Skinhead, which was published by New English Library and first skinhead book of all time…"
Spirit of 69: A skinhead bible, page 56.
" Slade
When it comes to naming the first skinhead band, Wolverhampton's favourite sons Slade top most people list. Soul and reggae were where it was at musically, but virtually all of the artist were black Americans or Jamaicans who shared little common with their skinhead following beyond a love of good music. Most white musicians were into making right on music for hippies, and the only contact they had with skinheads was when they were on receiving end of a doing. Slade on the other hand was young, white working class kids and were the first band to dress in working class fashion."
Spirit of 69: A skinhead bible, page 61.